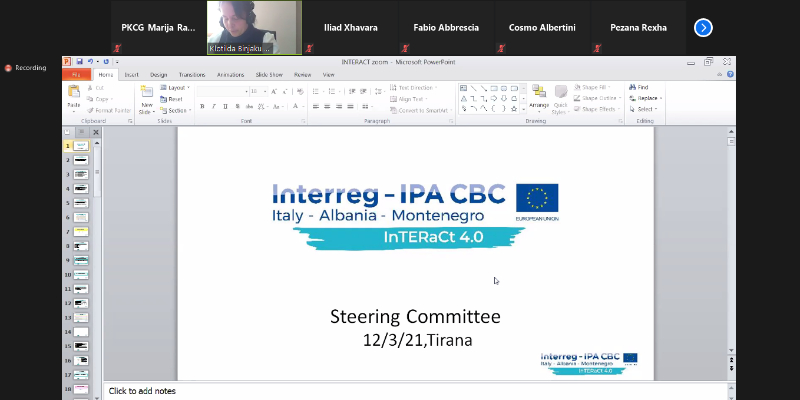 Third Steering Committee meeting of all project partners on inTERact 4.0 held online
Overview
The third Steering Committee meeting of all project partners on inTERact 4.0 project was held online on 12 March 2021. The meeting was held online via Zoom. 
Each partner presented the progress made in each Work Package highlighting also the next steps to speed up the implementation of the rest of the activities and bring the project to completion.
The Chamber of Commerce and Industry of Bari presented the Trend Academy and Trendwatching event they are planning to organize. The Trend Academy is being organized under the official name SEE THE NEXT and it will include series of events related to food, fashion, tourism and retail. The event will be held online and streamed via STREAMYARD. The content will be created based on the following cross cutting themes:
new market segments: tribe-niches, elderly, disabled, LGBT,

etc

.;

effective and innovative communication campaigns;

positioning and business models; 

Italian value and enhancement of the geographical origin of the product;
personalization of the product/service.
The Union of Chambers of Commerce of Albania (LP) presented the mock up and the appearance of the new Mediterranean Innovation Hub (MIH), which will be established in Tirana. MIH will be an instrument shared by the three countries, to promote and support broad approach to innovation. At the operational level, the MIH aims at the construction of an environment that gathers industrial associations, research centres and enterprises around a smart model; develop an office that provides technical support on research and innovation and the economic measures to support them; development of a "Smart Showcase", a training experiential workshop to share digital solutions for company processes.
The Chamber of Economy of Montenegro presented the communication activities completed in the previous period, and activities which are in progress.